Custom made orthotics
Custom made orthotics require a prescription from a physician, but the prescription is not required before the initial consultation. Orthotics are considered medical devices, and are made onsite based on a 3D cast of your feet. Based on the assessment, any other modifications, insoles, shoe modifications etc. are also performed onsite.
Having a lab onsite means we have accurate and complete control of creating custom made orthotics from start to finish. Adjustments to the orthotics are easy to do when necessary, often while you wait, resulting in the perfect balance between correction and comfort.
Pedorthic Consultation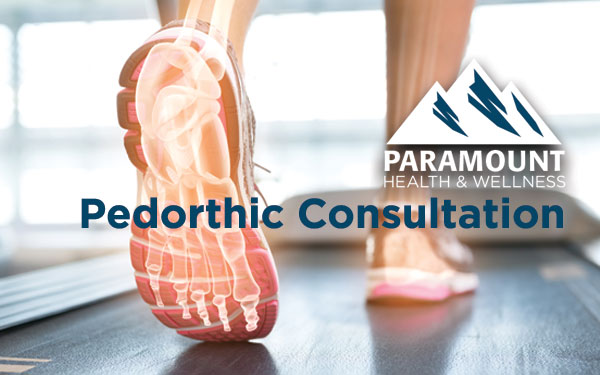 A C. Ped (C) is a Certified Pedorthist (Canada), someone who is trained in the manufacturing, fitting and modification of foot appliances and footwear. Biomechanical assessment is performed during the consultation, including gait analysis, range of motion testing and footwear assessment. Correcting biomechanics can greatly alleviate abnormalities and resulting pain and discomfort.
At Paramount Health & Wellness, we provide consultations and make honest recommendations based on the initial assessment. It's important to note that not all clients require custom made orthotics. OTC insoles or minor modifications to insoles, shoe modifications, custom made orthotics or custom made shoes, footwear recommendations and knee or ankle bracing are all potential solutions to biomechanical issues. It's also possible that physical devices may not be the answer, and other treatment or referral to alternate health care providers may be more beneficial to you, the client.
The consultation will take about 45 minutes, and we ask that you bring 2-3 pairs of shoes that you wear the most often.
Please call 519-619-7545 to book an appointment, or email jcoultes@paramounthealth.ca